WEBSITE DESIGN

Custom Design
Our sleek designs are custom built for the best usability and functionality. We take a marketing approach from start to finish, by building websites that search engines can see. Our job is to help businesses get found on the internet using both organic and paid search optimization. We design, code, and build websites to the latest Internet standards with SEO optimization.
We design and build ecommerce storefronts, content management systems (CMS) and informational websites.
Website Design Portfolio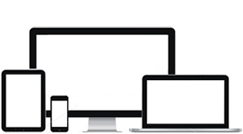 Responsive Website Design
A responsive website design (RWD) will adapt and format its layout for the best viewing capabilities, regardless of what device is being used. Whether it is a desktop computer, a tablet or a mobile phone. A responsive website will resize its design without being redirected to another mobile version of the website and containing all the content within one URL.
Benefits of responsive web design
Single URL for all desktops and and mobile devices
Better search engine optimization (SEO)
Reach a larger audience of tablet and mobile device users
Google recommends Responsive Web Design for building mobile optimized websites. read more
If you would like a quote on your website project or simply have questions, feel free to contact us.